When it comes to your discoverability on 500px and submitting your images to Licensing, keywords are key. To stress the importance of keywording your images, we have launched a Recommended Keywords feature in your Photo Manager that will assist in this process upon upload.
Depending on the image, you will receive a handful of green suggested keywords. Green indicates that the keywords have been suggested for you by our system, but you can remove any you'd rather not use by clicking the arrow on the right hand side of the word.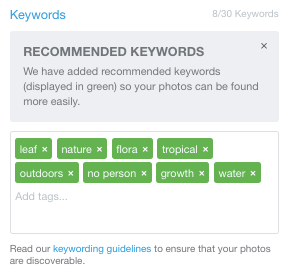 After this, you can add your own keywords in order to reach the 30 keyword limit that we suggest. Keep in mind that any image submitted to Licensing requires a minimum of 5 keywords. The keywords that you add manually will appear in blue!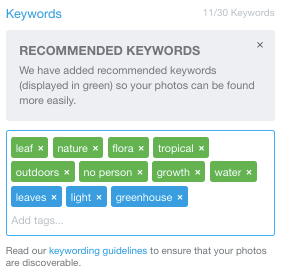 When you're happy with the keywords that you have chosen, don't forget to publish your photo!