UPDATE: We've recently communicated changes to Marketplace that go into effect June 30th, 2018. For more details regarding these changes and how they may affect you, please visit our Marketplace Transition FAQ.
You can remove a photo from the 500px Marketplace at anytime, but please note that we allow a 180 day window once you have de-selected the exclusive option/closed your Marketplace/opted out of Distribution, etc., for any pending transactions with buyers to be completed. During this time we will not exclusively license your photos to any new buyers, however any transactions already in progress may be completed.
To remove a photo from the Marketplace, go to 500px.com/manage and inside your "Marketplace" folder (found on the left hand panel) select the photo you'd like to remove, then uncheck the Marketplace option. Now click Save.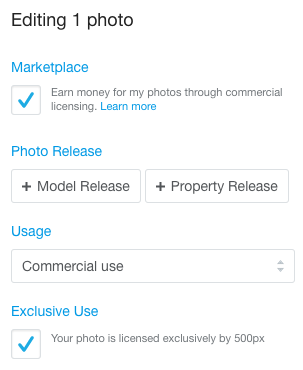 **Be sure to click the "SAVE" button on the bottom right hand panel to lock in your settings**