Disclaimer: The 500px Lightroom plugin is now unsupported, meaning our CX Team (support) is no longer available for assistance or troubleshooting with old or existing versions. 500px cautions the usage of the 500px Lightroom Plugin as this product is deprecated and will eventually be removed.
----
To have best plugin experience please make sure that you have the latest plugin version. You can update your plugin here: 500px.com/lightroom. Always ensure you have a current backup of all your photos! We are not responsible for any photo loss during troubleshooting, syncing, etc.

Most of the common issues can be solved with a few simple steps. First, right-click on the plugin and click "Delete Publish Service..."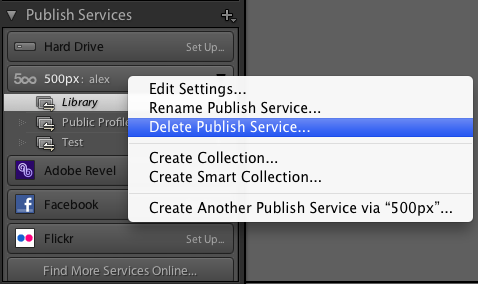 Now, setup the plugin again by clicking on the plugin and logging in to the service. Once logged in, click Sync Now, then click Save.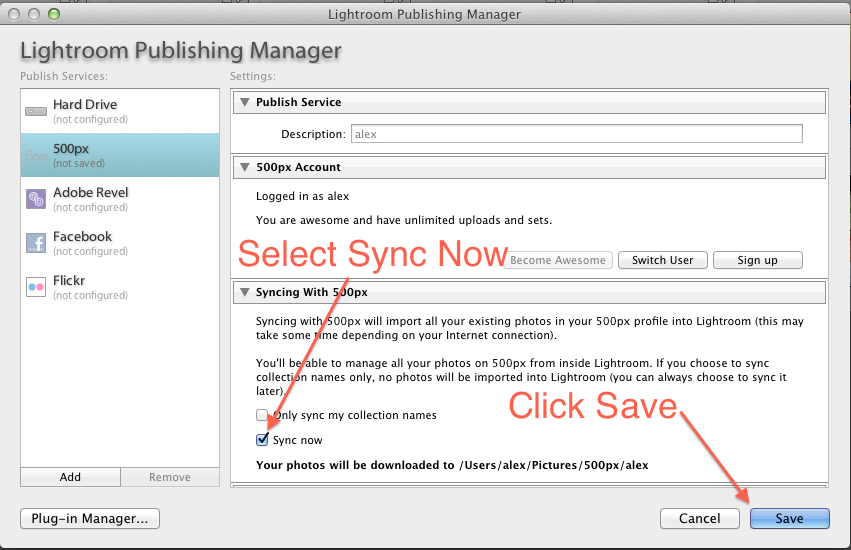 This will resync all of your Galleries, Profile, Library etc. If your Lightroom collection has lost it's link with your 500px photo, it will download thumbnails of your photos, which can be used to organize and manage your 500px Library.

Please note that the current version of the plugin supports Lightroom 4 & 5. Lightroom 2 & 3 are no longer supported.

The plugin is missing

If you are getting this message it means that you have relocated the plugin file to another spot on your computer and Lightroom can no longer find it. Download the plugin from 500px.com/lightroom and place it in your Applications or Programs folder. Using the Lightroom plugin manager, install the plugin again.
Can I replace or update an existing photo?
No, 500px does not allow photos to be updated with new versions, or replaced. Votes and comments on a photo are cast for that specific photo as it is, so replacing a photo after it has received votes or comments is not possible. You'll have to delete the current copy and upload a new one. The votes, comments, views, etc. on the current copy will be lost.